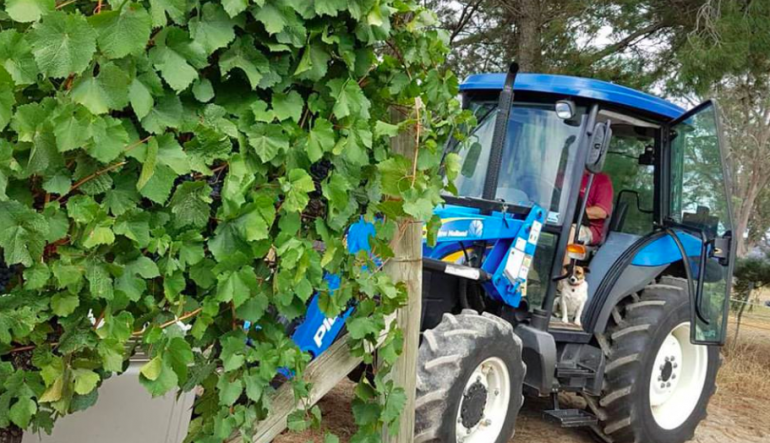 In the Vineyard
We are in the middle of harvest at the moment, and all is looking great – despite the cool and wet weather we have experienced. Autumn is certainly with us and ripening has slowed down quite a bit. Its looking like harvest will be completed in mid-April.
We are so happy with the quality of the fruit this year. It is disease free, in beautiful condition and has amazing flavours. We have it netted and protected from the marauding birds – its all ours!
This will be the first main harvest for our Arneis and the Marsanne/Rousanne blend and we are so looking forward to seeing these finally being harvested and fermented. Better still – in the bottle! Conditions are generally looking good, although some cooler days and showers are coiming through early this coming week. So here is hoping!
Coming Events
Easter – 14th to 17th April 2017
We are open all Easter. Come out and enjoy a cheese platter and the lovely weather predicted.
Truffle Festival – June-July 2017
Look out for further info on this year's Truffle Festival. We will have truffle platters available – these feature local truffle produce, matched with flights of our pinot noir.
Also, monitor our website for any further details. http://www.pankhurstwines.com.au
Cheese Platters – Every Weekend
Enjoy a cheese and pinot chutney platter and our lovely scenery while tasting our range of wines. These include cheeses from boutique makers on the NSW south coast and are available each weekend. Bookings are recommended.
Gifts and Merchandise at Cellar Door
* Local olive oil
* Our beautiful furtniture and platters made from used wine barrels.
* Fun wine stuff
Only a few of the Centenary Wines still available
The Canberra District wine industry joined together to produce some fabulous wines to celebrate the Centenary of Canberra. Blended from award winning wineries, the Centenary Riesling and Centenary Shiraz are great examples of the quality wines our region produces. The Centenary Sparkling was made from selected chardonnay and pinot noir fruit from our region and is an oustanding sparkling. See www.canberrawines.com.au/centenary for details and how to purchase, or phone 62302592, or simply come out to Pankhurst Wines.